Laureamko Council of Representatives had organizing meeting on January 12. In the meeting Council selected Presidents of the Council 2022 and Board for year 2022. Who are those people? We asked for example what they think about choices. Let's see what our board members answered! Check out also what our Presidents answered here. Ps. If you want to know more about them, you can contact them via email (firstname.lastname[at]laureamko.fi).
Tomi Järvinen, The Advocacy Team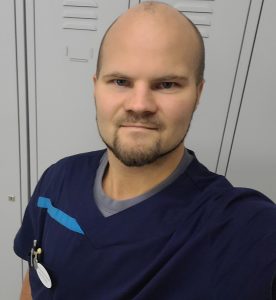 I`m first year nursing student from the Hyvinkää campus. I am originally from Helsinki, but I moved to Hyvinkää in August to study. I enjoy photography and hiking in nature, and I taste different types of coffee I grind myself.
This year I`m the member of the Board of Laureamko, I will be responsible for the development of education and student representatives.
The song which helps me to feel better are Hunting High and Low – Metalite. The song included just full power of rhythms, which helps me to discharge the extra energy of my brain.
Last book, what I was read was Ilkka Remes – Eagle´s nest. The book was well written and suitably interesting. The plot progressed steadily, but there were enough surprises to keep the excitement going.
I look forward to the opportunity to develop teaching to better meet the needs of workplaces. Cheers!
Sanni Koivuluoma, The Advocacy Team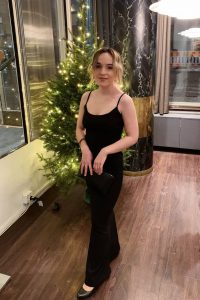 I am second-year correctional services student at Tikkurila campus. At the moment I'm living in Järvenpää, but was born and raised in Tampere. I spend my free time with TV series and books, I'm especially into all kinds of suspense and horror. I'm currently reading Varjokuvat by Camilla Grebe, which I cannot put down. I also love cooking for my friends a family.
In the board of Laureamko I am a member of the advocacy team, i'll be working on things related to FSHS and student welfare in general. Student wellbeing is close to my heart in every way, so it's great I got to be in this position. I am also the project manager on the Influencing the resources and goals of welfare services project.
I listen to a lot of different kinds of music, but on regular rotation at the moment are, among others, Rammstein and Rina Sawayama. My definite power song is Vroom Vroom by Charli XCX, despite not even having a license.
This year I'm looking forward to learning a lot, and to being able to work for the benefit of every student.
Minny Meriläinen, The Advocacy Team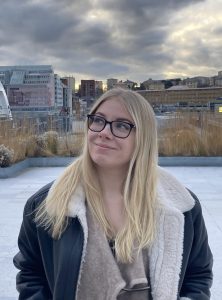 I´m a nursing student from Tikkurila. I started my studies in the autumn of 2020, lets call it "The Heart of the COVID-period". I´m responsible of sports and wellbeing and aside that, I lead few super-awesome projects, including "Vuosijuhlasitsit" (every year celebration of Laureamko). I´m also a godmother of Lohja's campus team.
You wanna now my power song ? Well, I told up there it was Matti and Teppo's "Vauhti kiihtyy" but lets figure out a English version here… I might have to say Powerwolfs "Diamonds are the girls best friend". The Finnish song is very outgoing and makes me wanna go party with my friends, but this English one totally makes me feel like a warrior queen who can do anything… With a little sparkle of course.
Books ? Maybe a one. Last read book of mine is called "Beasts" and it is written by Frank Schätzing. Spoilers, whales tries to take over the Earth again.
My wishes for the 2022 is new experiences, new people and really leave my hand print to Laureamko. Let´s make the year of 2022 awesome for you and me!
Camilla Relander, The Advocacy Team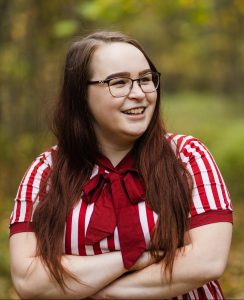 I'm Camilla Relander, 23 years old and I'm studying to become a BBA Specialising in Legal Expertise. My home campus is in Hyvinkää, but because of the pandemic I haven't been able to go to my home campus even once.
I live in two cities; in my hometown Kouvola and in Helsinki. My job (and kinda also my studies) is in Helsinki, and in Kouvola I'm involved in politics in the city council. In my free time I keep myself busy with different youth and student organizations. If I have free time for real, I like to play card games with my friends, play video games, listen to true crime podcasts or cook. My responsibilities this year in Laureamko are urban influence and advocacy communications.
My power song is Waterloo by ABBA. It's so catchy and I can't help but just smile and get a good feeling whenever I hear that song.
The last series I've watched is Breaking Bad. I've watched the whole series a couple of times and every time it's been so great. I strongly recommend the series.
The biggest thing I'm waiting for to happen this year is being able to go to campus and meet people face-to-face. I started my studies in January 2021 so I've only been in distance learning. I'm dreaming of meeting people and having fun just like before the pandemic hit.
Petteri Ihalainen, The Service Team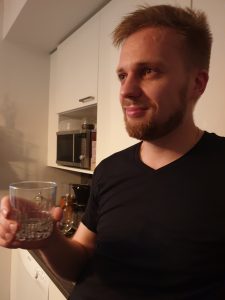 I´m a second year business student from Leppävaara campus. One day when I finally graduate from here I will be specialized to selling and marketing also I will be studying all the investing courses. I was born at Tampere but now I´m living in Espoo. My free time I spend on doing some nerd stuff and visiting at student happenings, when they start again.
My main jobs at the board are Freshmen Party and tutoring. So in practice I organize the Freshmen Party to our new first year students. I also recruit new tutor students and train them. Jobs like tutoring have always been close to my heart. Before I started the school I had decided to apply to tutor. So this job was a ideal follow-on.
The last book I have read: the lord of the rings the two towers. Usually books contain more information and details than movies. The main plot was the same but the book was enough different compared to the movie. They are both a cultural classic. My power song: the script hall of fame. The reason that the higher you aim the more you succeed.
From this year I´m waiting the most at summer and vappu.
Jutta Karvonen, The Service Team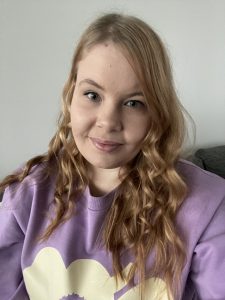 I´m a 24-year-old, third year public health nurse student from Otaniemi campus. I´m from Hyvinkää. I live with my boyfriend and almost four-year-old French bulldog called Eetu.
I spend my pastime circling around different flea markets, listening to my own playlist from Spotify, spending time with people who are close to me and doing all those things, that give me good feelings at that specific moment.
This year, in Laureamko´s board, I'm stationed in the service team. My areas of responsibilities consist of marketing, communications, and international affairs. In addition, I'm in on some other teams and working groups e.g., tutoring team.
My song of choice for this moment is Sia´s Unstoppable. A song which gives you the feeling that you can survive from all your problems, and nothing can stop you from reaching your achievements – even on worse days. The last book I've read is Harry Potter and the philosopher's stone. I've been a Potter fan when I was younger, but I've never managed to read all those books. This year I'm planning to read each of them, for they are the best books ever written!
This year I'm looking forward to learning new things, networking with new people, and that I could step out of my comfort zone without any prejudices. I also expect getting some sweet new memories.
Jukka-Pekka Mäkinen, The Service Team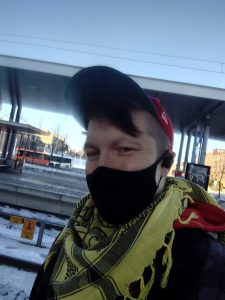 I'm Jukka-pekka, but as a dear child has many names, so does dear board member, like Jukkis, J-P, Juge and also sometimes I have been called a monkey. I'm a second year student of the Hospitality management branch. and my home campus is Leppävaara. I live in the dark and scary Espoon Keskus and if you would continue the railway c. 150km to the west you would get to Turku, where I come from. In my free time I hang around online playing and chatting on Discord. Also I do gym exercise and do some yogobe training to relax and calm down.
This year as a board member my responsibilities are Pinkit viikot and Discord. I also work with tutoring and online community.
My power song is Jannika B Itseni herra because it reminds me of small but important tips for life.
Other is Panic at the Disco Hey Look ma, I made it.It reminds me of how far I have gotten. The last book excluding school/nonfictional book might have been Veronica Roths Divergent. The last move I have watched is Shining
Mirko Varpunen, The Service Team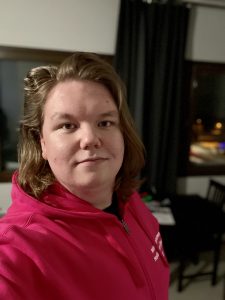 Hello! BBA student from Tikkurila, moved to Vantaa from Kuopio. All free time goes pretty much towards different student active work, but skiing, gaming, and different events are fun.
To balance my busy life, I listen to a lot of music. Volbeat and A Warriors Call in particular are usually often on repeat. I also consume a lot of different series, all three Chicago series still are the best.
During my year on the Laureamko board, my responsibilities are events, student associations, and online communities. I look forward to all the events that have been postponed to hopefully now the near future.