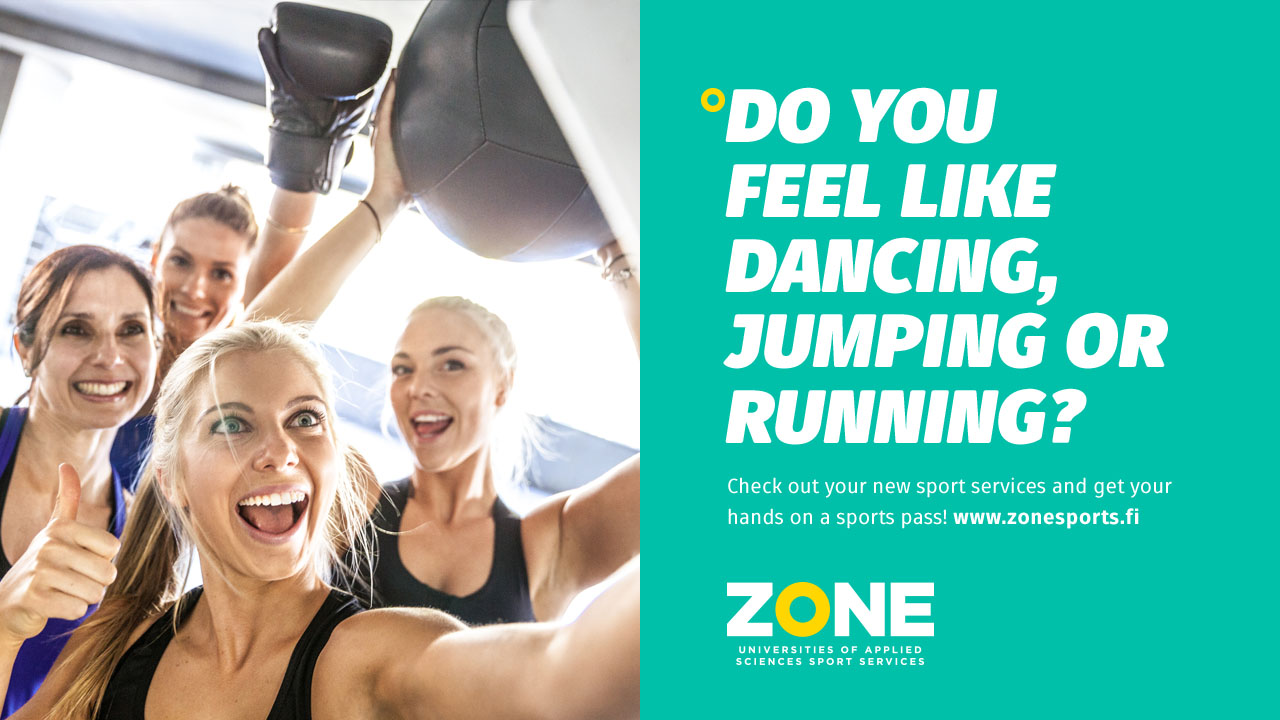 Zone – Universities of Applied Sciences Sport Services are the key for a healthy weekday and active future.
As a member of the student union you are entitled to use Zone Sport services special price: only 10 € / semester and 15 € / academic year (for non-members 59 / 69€). The services can be used with a Sport pass. It is made to support the active and sporty higher education life, from beginners to athletes. With the sport pass you get to use use nine gyms, 50 hours of instructed classes, discounts from sport courses, free ball games and badminton reservations.
How to get the Sport Pass? Buy your Zone's Sport Pass from our online store (sales starts on August) and register to be a user at www.zonesports.fi, click the yellow menu "Log in" and create yourself an account. You can activate the sport pass in the nearest Zone customer service point or buy the delivery for the sport pass from our online store. In Laurea you can get the services in Leppävaara, Otaniemi or Tikkurila campus office. Note! If you have had the sport pass before, DO NOT create a new account for yourself! You can get the new sport season to the old profile. For a lost sport pass we charge 5€, so be careful with the pass.
Sports Pass (Autumn) school staff and non-members 59 € and Gym Pass (Autumn) only 15€. Sports Pass (Academic Year) school staff and non-members 69 € and Gym Pass (Academic Year) only 20€. Buy your now from Laureamko's offices (Leppävaara, Otaniemi and Tikkurila).
 More information and all instructed classes and courses you will find www.zonesports.fi.