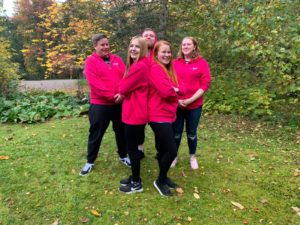 The previous blog talked about the tasks of the board members of the service team, but how about the advocacy and influence work?
The advocacy team is led by the chairman or vice chairman. Running a team includes chairing meetings as well as staying informed about team matters. The chairman and the vice chairman have not only the team's internal tasks but also other tasks, which are related to leadership and financial management, for example.
Student representatives act as the voice of students. The role of student representatives is to train and help student representatives based on their needs. He will be responsible for organizing trainings and the smooth operation and coordination with Laurea's staff.
The wellbeing officer participates regularly in the meetings of the wellbeing working group. He highlights the student s' vision of well-being factors in working groups. He is is organizing wellbeing Appros for new students and developing this concept. As new, but even more important responsibility is YTHS!
Exercise manager cooperates with Zone exercise services. He can organize various sports events, for example Sport Appros. The similar participates in the connection work with the student sports union. Sharing Yogobe codes is also part of his work for our members!
The principal of education policy is actively involved in developing education in Laurea. He will attend meetings of the Laurea training development management team among other things. His job is to highlight the student s' perspective regarding different issues of education.
City impact is being made in the capital area through WSC, World student capital, where there is a representative of every student and student union operating in Helsinki, Espoo and Vantaa. WSC is in the interest of students in cities by cooperating for example With HOAS and HSL. In addition to the WSC, Laureamko is making urban impact in Porvoo, Lohja and Hyvinkää by connecting with the municipality's decision makers and by implementing for example. projects related to municipal elections.
Laureamko participates in national influence through his own roof organization SAMOK. SAMOK represents all Finnish University of Applied Sciences and has a national impact on student s' affairs. Laureamko is actively involved in SAMOK activities, including: statement tours and communication campaigns. Laureamko also affects SAMOK by attending the annual general assembly, where the union's activities and economy will be decided.
Advocacy communication is part of the marketing and communication team. In this task you will get to improve your communication skills! The government officials together with the Laureamko employee will be responsible for all the communication from Laureamko.
Equality is an important value in Laureamko and Laurea. It's up to the person responsible for this to ensure that the things in the plan are implemented in practice as well!
In addition to different responsibilities, the board members have also different projects. As a board member, you get to practice leadership in the role of project manager in different projects!
The tasks of board will be agreed at one government organizing meeting. Everyone gets to influence what tasks they want to do and usually everyone has multiple responsibilities, for example well-being and exercise.
It's good to think about your own interests when applying for the government. Next year's board will be elected at the council's organizing meeting on 16.11.2020.
If you're thinking about something related to the tasks of the government or the advocacy team, don't hesitate to send a message!
You can connect with board member Carita (carita@laureamko.fi) or chairman Miisa (miisa@laureamko.fi).
Written by Carita Törhönen