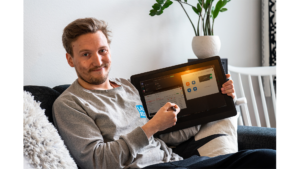 Riku Simola has been selected as the project coordinator for Laureamko, METKA, O ' Diako, Helga and TUO. Simola is a service traffic professional graduated from Laurea University of Applied Sciences with comprehensive expertise in the student union field.
"I feel wonderful to have an opportunity in the development of such a topical project, in the student union and university field. After a long student union career during studies, returning to a former work environment to carry out new challenges feels interesting and challenging at the same time. Working in a graduation year in a familiar organisation, creates an excellent baseline to make activity and community representing students as a hole.
Societies and social structure as well students' everyday life has gone through many changes considering last years. Our way of manner in completing studies, spending time and interacting with each other has searched its form after the digitalisation of everyday life. Also the challenges and uncertainties in completing own studies, have created a new kind of demand in pedagogical solutions. Many freshmens first year has been different than expected.
Orienting in creating better and versatile ways to have support in studies, networking and be a part of the student culture in new online ways. Studies being an important interface in social contacts and networking, especially for new students, desire is to create a good starting point for everyone to be a part of student life." Riku Simola comments
The recruitment process has now been completed and therefore the wheels of the project can be rolled at full speed. Riku has knowledge and lots of ideas about the project, so it's a pleasure to start working together on an important topic!"- Carita Törhönen, The President of the board
Riku will start at his new position on 15.3. 
More information: Sini Heino, [email protected]