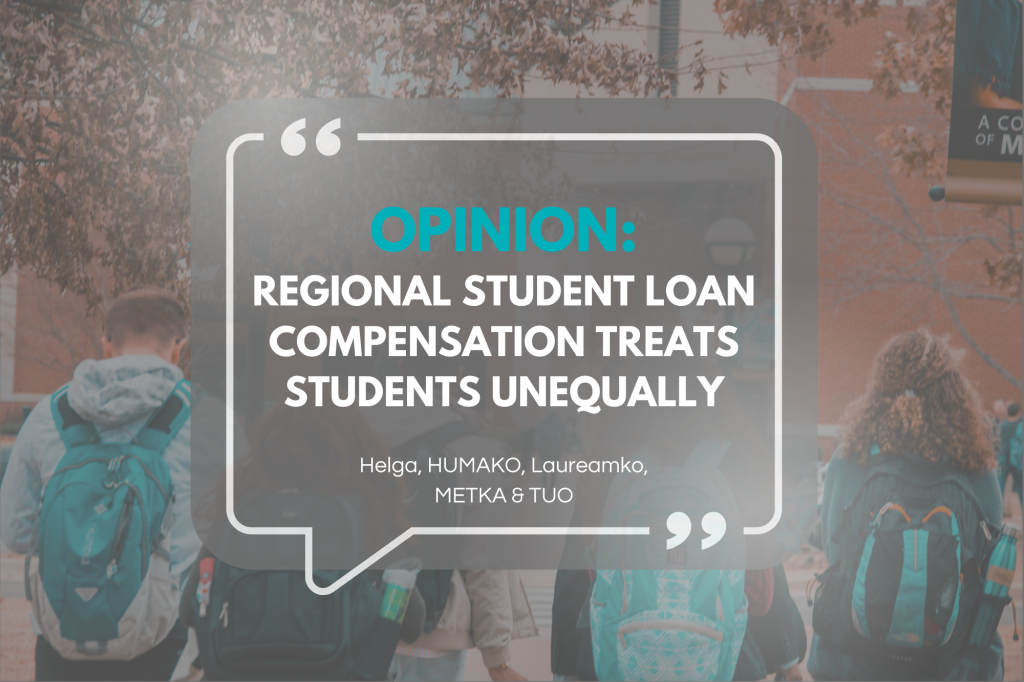 The Finnish government has decided to start a trial about an aerialized trial of student loan compensation. The idea of the trial is to attract graduated students to move to municipalities that suffer from negative population development. A graduated student can be chosen to participate in this trial by a lottery. If they choose to participate in the trial, they have to move to one of the chosen municipalities in the Eastern or Northern parts of Finland. In the period of three years the government would compensate in total 8800€ worth of student loans for trial eligible graduate.
The student unions Helga, HUMAKO, Laureamko, METKA and TUO do not support the government's proposal for a regional student loan compensation trial. The proposal treats students in different higher education schools (universities and universities of applied sciences) differently, as each school provides different fields of studies. The primary demand for workforce in the areas of this trial is in the social welfare and healthcare sector.

In the current situation, the student can receive student financial aid and general housing allowance. The student financial aid consists of a study grant and government guaranteed loan. In addition to this, students usually have to finance their lives by working for example part-time, especially if they don't want to withdraw the loan. The current trial of the aerialized loan compensation doesn't help the financial situation of students during the period of studying in which the government should be focusing.
We also find it problematic that in the trial, the condition to get the reimbursement is to live in some of the municipalities that are part of the trial, instead of working in the actual municipality.In this proposed version of trial, there is a big chance of misuse of the benefit.
In addition, the draft law's lottery principle for obtaining a regional student loan compensation is problematic, as it once again puts students in an unequal position. We do understand that in the name of experimentation and research, the students who qualify for the trial should be chosen randomly. But the principle will inevitably exclude students, who might have been interested in applying for student loan repayment.
We appreciate that the government wants to promote the status of students. But if we wanted to find solutions that would genuinely improve students' status and livelihood, the regional student loan repayment is not part of the solution.
On behalf of Helga, The Student Union of Haaga-Helia University of Applied Sciences,
Diana Murashkina
[email protected]
On behalf of HUMAKO, The Student Union of Humak University of Applied Sciences,
Sini Riihimäki
[email protected]
On behalf of Laureamko, The Student Union of Laurea University of Applied Sciences,
Suvi Nieminen
[email protected] 
On behalf of METKA, The Student Union of Metropolia University of Applied Sciences,
Valtteri Siljander
[email protected] 
On behalf of TUO, The Student Union of Turku University of Applied Sciences,
Matias Sillanmäki
[email protected]