The Finnish Student Health Service (FSHS or in Finnish YTHS)  will expand to include students at universities of applied sciences from the beginning of 2021, and the new service network has been published! The service network shows where FSHS services will be offered in future.
Laureamko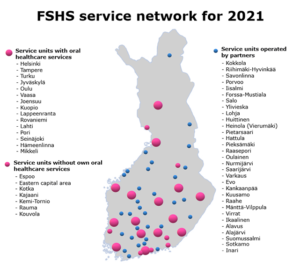 is happy that the plan seems to take into account Laurea's campuses in Porvoo, Hyvinkää and Lohja. The exact location of the FSHS Espoo unit and services it will provide will show how well it serves the students of Leppävaara and Otaniemi.
We would have preferred an unit closer to Tikkurila campus, as the it  takes at least 35 minutes from the campus to FSHS Helsinki unit, which is a long journey because of basic health care.
But It is a good thing that all students have an access to any FSHS unit, for example the one that's closest to their home. In addition, FSHS intends to invest more in the development of electronic services.
Laureamko will continue to monitor the FSHS reform and work on behalf of Laurea's students.
Read more on about the reform and new service network on FSHS website: https://www.yths.fi/en/news/2020/students-in-higher-education-to-receive-equal-services-starting-from-1-jan-2021/