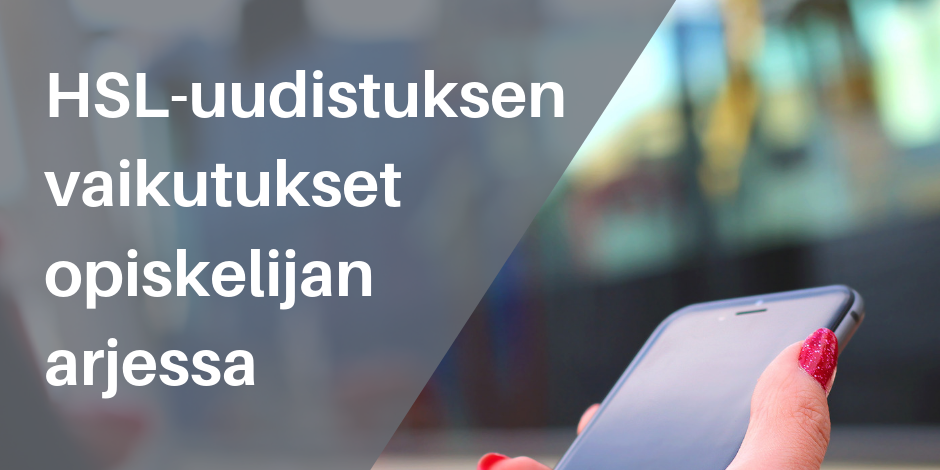 Autumn semester has started and to a lot of us it means more time spend in public transportation. But did you know that you could get student discount from HSL(Helsinki Regional Transport Authority)?
Who can get student discount?
You must be a full time student living in the HSL-area which includes Helsinki, Espoo, Kauniainen, Vantaa, Kerava, Sipoo, Tuusula, Kirkkonummi and Siuntio. Your studies should be leading to a qualification or degree in Finland or in your home country.
What are the student discounts?
You can get the student discount from all seasonal tickets above 30 days. The discount is 45% from normal rates. You can also use other types of tickets with you HSL-card or HSL-app but then you don't get the discount.
How do you get your student discount?
If you have a Finnish online banking ID or a mobile ID, you can get the student discount on HSL-app. Just follow these instructions on the app.
If you have a finnish student card(either physical card or student card app) you can get the HSL-card from HSL-service points by showing your card and an official ID
If you don't have a student card yet you can also print out a discount ticket application and get it stamped and signed by Laurea. You just show that and your ID at the HSL-service point. Get the application as a pdf here
Find out more about HSL and the student discounts: https://www.hsl.fi/en/tickets-and-fares/discount-tickets/students