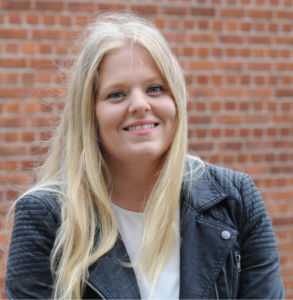 I myself started in Laureamko as a tutor in 2016, without even fully understanding
that it's organization and influence activity. I was nervous if I'm suitable for a tutor as a family student and would my own time be enough? – There was enough time and I was pretty good for a tutor.
First time I got really excited about influencing things was on Laureamko's campus team. I'm studying to be a social worker and because of studies, i am interested in the overall well-being of people. As Laureamko's campus operator, I got to join Laurea's Tikkurila campus wellbeing group and the things we discussed were actually taken into account in school's everyday life. In the working group I had experience that the surrounding environment can be affected. Back then we discussed quiet spaces and their need on campuses. We've already got this going on at least on Tikkurila campus and hopefully on other campuses in the future. Development is improving and lobbying is producing results.
After a year as a Tutor, I joined the student activities more closely and I was chosen for Laureamko's board and with it the board of the Finnish Student Union SAMOK ry. The influence of the EU was largely related to the development of national education and I got to influence, for example, the expansion of the Student Healthcare Foundation (YTHS). It's been a few years already, but influence work is often slow. YTHS services will be used for university students at the beginning of next year.
Things led to each other and at the moment I'm working as chairman of STTK Students, meaning the union movement. Trade union movement is, in my opinion, a natural transition from student politics. Student politics affect the better student time, while the trade union movement is trying to influence the better working life of workers. It's worth finding out if your own union has student activity and join us!
In my active student years i also became interested in political influence. I noticed that it's an effective route affecting society and your own city. I chose the right party according to my values and joined the action. Several political parties also have their own political student organization. Sometimes I feel like many people are afraid of so called in the student movement. party politics mixing with student activities even though most of the things they do in the student movement are politics. What kind of student culture are we building or what kind of student culture are they sending students? Every decision leads to something and decisions are made, for example, by a political decision makers in terms of urban politics. Politics should not be afraid.
In student activities, due to different decisions and diverse in general, it's important that people are involved with different backgrounds, different values and activities are made into something that everyone can join despite their interests. This same applies to party politics. If you're thinking about leaving for student activities, I recommend. Going to student organizations is definitely one of the best decisions of my life!
Written by, Saana Simonen