In many respects working full time for the student union has been unique opportunity. Protecting student rights has been important to me for years and it has been great to be able to do it as a job. I have learned a lot about student issues from education policy to mental health and welfare issues. I have also grown into my role as a specialist and have been able to develop as a worker.
One of the great things about my job is how versatile it is. Of course there are routines, such as answering students inquiries, but I haven't seen two completely similar days. The daily life of advocacy consists of so many distinct tasks. One day, it can be working hours on statements, blogs and social media posts, and on another it is meetings with Laurea's management or teaching staff. It is about learning and teaching others. It's answering Laureako's chat or solving an issue with an individual student.
The work has also been somewhat modified to suit my own skills and interests. I am especially grateful that I have been able to participate in communications, for example, producing social media content. I've always wanted to learn communication practices and now I got the opportunity! It was a great moment to realize that I can translate a 40-page research report into a concise blog that is actually understandable.
I would also like to highlight how my work at Laurea has also given me a valuable perspective on Finnish education and student policy. Last spring, when I started at Laureamko, I thought I had a good idea of ​​these themes. I had spent many years in various student positions at my university and had confidence in my own knowledge.
However, I soon realized how big gaps I had in my knowledge. In Finland there are two types of higher education: Universities and universities of applied sciences. I saw how Finnish education policy and public debate on education often exclude universities of applied sciences. Even in the Ministry of Education and Culture, there are regularly wrong terms and hidden disregard when talking about universities of applied science.
I seriously think that anyone who wants to work in higher education in Finland should get to know both types of universities up close so that both systems can be developed on an equal footing.
Laureamko has also taught me how to create better routines for my work. Limited hours and resources teach you how to operate more efficiently so that the student union serves our students in the best possible way. Laureamko has given me time and support to develop my working style.
Laureamko has been a great place to develop my skills and gain valuable work experience. I believe that this experience will greatly benefit my future role as MEP's assistant in the European Parliament. These last few weeks have been hectic, but still leaving makes me feel a bit wistful. Thanks again to all the people in Laureamko for this memorable and warm experience!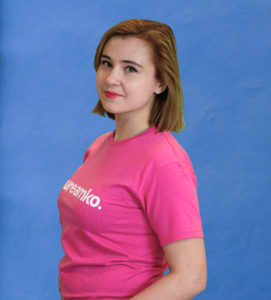 Ada Saarinen
Laureamko's advocacy specialist until the end of the week.