Laureamko is collaborating also this year with Helga's 8-Day May Day even. Don't get it wrong though, Finnish student's Vappu, May Day will be celebrated for 11 days! The grand finale is going to be on 1st of May at Kaivopuisto with tens of thousands participants. Tehre we are having awesome party near Helga's, Laureamko' and Bailtaan.fi tents with dj's and food.
Vappu and the weeks before it are the best time in student's year. Use that time to participate in as much of events, meeting awesome people and collecting/ earning overall badges.
What ind of events?
11 days, 13 events – there's a lot of going on. There traditional student pub-crawls like
21.4 Kantsu haltuun,
23.4. Jokikadun Appro, (in Porvoo)
25.4. Keravan Kierros,
26.4. Appro de Gastronomie (Food appro)
30.4. Runaway Train

The official overall ritual with fun event and oath will be held 27.4. in Hietaniemi near the beach area. There you going to be having great time in your groups with different tasks. The you going to have an oath and then there's the PreVappu afterparty in Baarikärpänen

Then there's picnic type of events. Laid back and fun events in nice locations: 22.4. Vappumäki, 28.4. Mushroom Hunt and ofcourse the May Day 1.5. in Kaivopuisto

Pictures: HHBileet – this year you'll see also Laurea students in the beaches of Hietaniemi!
WHat's the point in this Wappu event?
Start by purchasing your Wappupass here! Laureamko/Laurea people have the opportunity to buy a special edition of Wappupasses where you can get stamps also from the Laureamko events. The idea in 8 Day May Day is to participate in the official events and get a stamp to your Wappupass from each event you participate. You have to attend 6 events so that you have officially reached your goal. Then you have earned the legendary Helga's 8 Day May Day overall badge. If you participate in all of the events you will receive a special honorary diploma. You can also attend and party at these events without the Wappupass!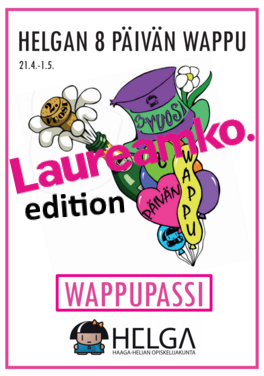 What do I get out of the Wappupass
You will get all the events for cheaper member price even though they are not Laureamko.On 1.5. at the Helga-Laureamko-Bailtaan.fi tents there will be food and drinks for you for free with this Wappupass.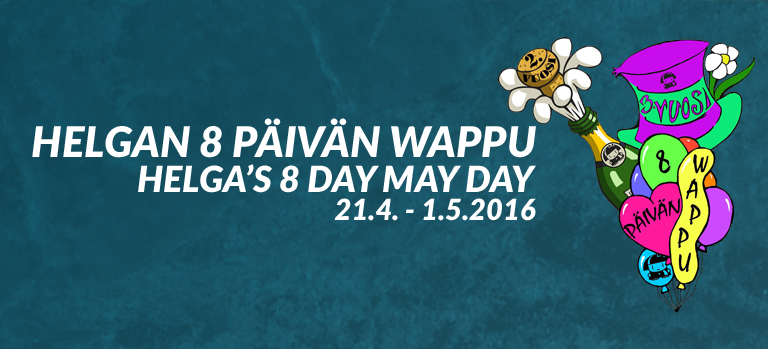 21.4 Kantsu haltuun – Atkins ry
23.4. Jokikadun Appro – Hepo ry, Porvoo
24.4. Kallion Korkkaus – Sture ry
25.4. Keravan Kierros, Laureamko, Kerava
26.4. Appro de Gastronomie – Pore ry

27.4. Haalarinkastajaiset – Helga, Laureamko
27.4. PreVappu, Laureamko
See you at these events! It's going to be LEGEN – wait for it – DARY!