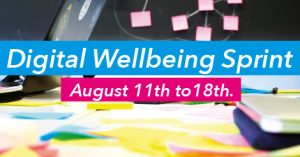 Digital Wellbeing Sprint is an once-in- a-lifetime opportunity for students to gain practical experience and develop essential open innovation, co-creation and rapid prototyping skills that are in high demand in the modern, rapidly changing working life. You will have an opportunity to innovate together with students, companies, the public sector and the third sector. This intensive week happens at august 11.-18. Digital Wellbeing sprint is free of charge for the students!
The six-day Sprint takes place 11 th to 18 th August with the first two Sprint days in Espoo. On the evening of the second day 14 th August some of the students and other attendees will go to Lapinjärvi municipality where they stay until Thursday evening working on the Sprint case. The rest of the students and others continue to work on the case in Espoo. All teams will again come together for the final pitches on Friday 18 th August. There will also be extracurricular activities the Sprint attendees can take part in on the weekend and in the evenings of the Sprint. The Lapinjärvi group will have accommodation offered by the municipality from Monday 14 th to Thursday 17 th August as well as arranged travel to and from Lapinjärvi on Monday/Thursday.
Digital Wellbeing Sprint is a part of Professional Summer School, which is a collaboration of Metropolia, Laurea and Haaga-Helia's summer studies in 2017. Teaching language will be in english. You have until May 15 th to apply, so don't think too long and sign up! Enrollment and more info can be found from this link (only in english).