We reported in our news on October, that the our student card changes from Frank to mobile student card Slice on 1.1.2019. It will be worth paying attention to the changing of the student card when you renew your membership in January.
The Slice app is loaded into a mobile phone and so the student card always stays handily with you. With the Slice student card you can use the student discounts of the National Railway Company of Finland, Matkahuolto and in campus restaurants for the student priced food.
In addition to the student card, a whole group of student discounts and benefits are found in Slice to the members of Laureamko. The benefits are constant discounts and restricted advantages that can be used only once. For example Anton&Anton offers -10 % on all products and as a restricted benefit they give two soup lunches in the price of one for every member.
You can identify the Slice's member companies handily from the blue stickers which there are usually in the connection of the cash desks or doors. They serve as marks of the companies that give student discounts. Always ask student benefits when seeing the sticker because the companies have committed themselves to offer different student discounts. The more the discounts are asked and used the more the companies see the importance of student discounts.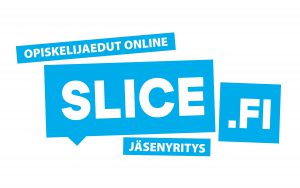 You can use Slice easily. When you have renewed your membership in our web shop, you can order your password to Slice with e-form. After filling the form you'll get your paaswor via e-mail. Use it when you are registerin to the app. Remember to accept the conditions asked by the application and to give the licences which are needed for the operation of the student card.
Secure quick access to Slice by updating your member information. You are able to update your member information through the web shop. Log in and click the pen icon after your membership. Check especially that the e-mail addresses, the date of birth and your student number are up-to-date because Slice uses them as a reference to find your info in member register.
The new student card was chosen because we want to offer benefits which are better and more local than before and more versatile services. Slice developes the app together with Laureamko's partner student unions ASK, HUMAKO, Helga, O´Diako and TUO.
through collaboration we can affect better than before what kind of student card is used by our members. Please note that our partnership with Slice has just begun. Different discounts and properties will be udated to the app during the spring. Participate in the developing Slice and leave to us a tip about the discounts you would like to get with your membership! You can leave the tip with this form.