Silja Nurmi is a member of the Laureamko board in 2018 and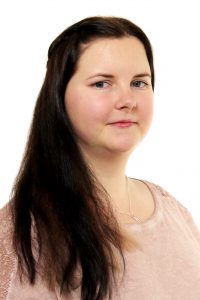 her responsibility is student well-being. She is a second-year nurse student and she wants to promote the well-being of the young people. The political
influencing is familiar to Silja who is the member of the town council and the education and welfare committee in Riihimäki.
"I have promoted cooperation between Laureamko and Laurea and that way brought up the students' views. This work has been very meaningful and I would like to continue to do this at the national level. The election year is important to the whole field and I feel that my experience in politics and the know-how could come in handy in SAMOK," states Silja.
"Silja's broad experience in organizational activities is seen in the way she works. It has been admirable to follow how passionately and with interest Silja has promoted students' well being in Laurea. The way Silja commits herself to the matters has been recognized not only in Laureamko but also in Laurea," admires president Jouni Koski.
Candidate: Silja Nurmi, 040 5319 822
Campaing manager: Anna Marttila,
044 2877 162
[email protected]
Follow:
Twitter: @nurmi_silja
Facebook: @nurmisilja