Laureamko is member of Finnish Student Sport Federation (later just OLL) and if you're our member you are too member of OLL. Here is a new newsletter from them.
30% discount for student members on climbing tickets at Irti Maasta centres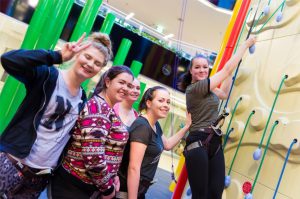 Students, come and experience a completely new kind of climbing experience with a members' discount! The climbing wall will get the adrenaline flowing and put a smile on your face when you manage to surpass yourself. At the Irti Maasta centres, you can try climbing in a fun and inspiring environment. Auto-belay devices and versatile climbing walls ensure that everyone from first-timers to old-timers can climb at their own pace.
As a member, you get a 30% discount at all Irti Maasta centres in Finland. Come along and take up a new sport on your own or with a friend! All you need to bring are clothes and shoes suited to indoor exercise; guidance and all the other gear you need is always included in the price. Check out the locations of the Irti Maasta centres and book your tickets at: https://irtimaasta.fi/opiskelijat (in Finnish)
Reveal your juiciest sports story to OLL's Instagram followers!
What kind of positive experiences in sports do you have? Have you regained your lost interest in sports, or have you perhaps experienced the joy of exercise for the first time when taking up a new sport? Or did something funny happen to you when you were exercising? OLL wants to provide a platform for sharing the joy of exercise. Which experience or idea would you like to share with OLL's followers on Instagram? Please contact their Communications Specialist Hannasofia ([email protected]), and together you can think about how your story in particular could interest those who are at pains to start exercising. 
Run or play mölkky!

Spring's last Finnish Student Championships (FSC) will be held in three cities in May.
Cross-country running in Vierumäki on 16 May
Marathon and half marathon in Helsinki on 18 May
Mölkky in Kotka on 18 May
For more information and registration, please visit: www.osmkisat.fi (unfortunately only in Finnish)